So I made 6 outfits in total for the little girl I spoke of earlier. I finished the last outfit tonight. A very cute set of PJs!
I've got Samantha and Jess modeling outfits for you. The little girl said she wanted something lime green so I made 2 dresses in that color.
So first the baby doll dresses. I had a simplicity pattern for these 2 dresses(same pattern, different color dresses)
First up: Jess is modeling a
lime green and white dress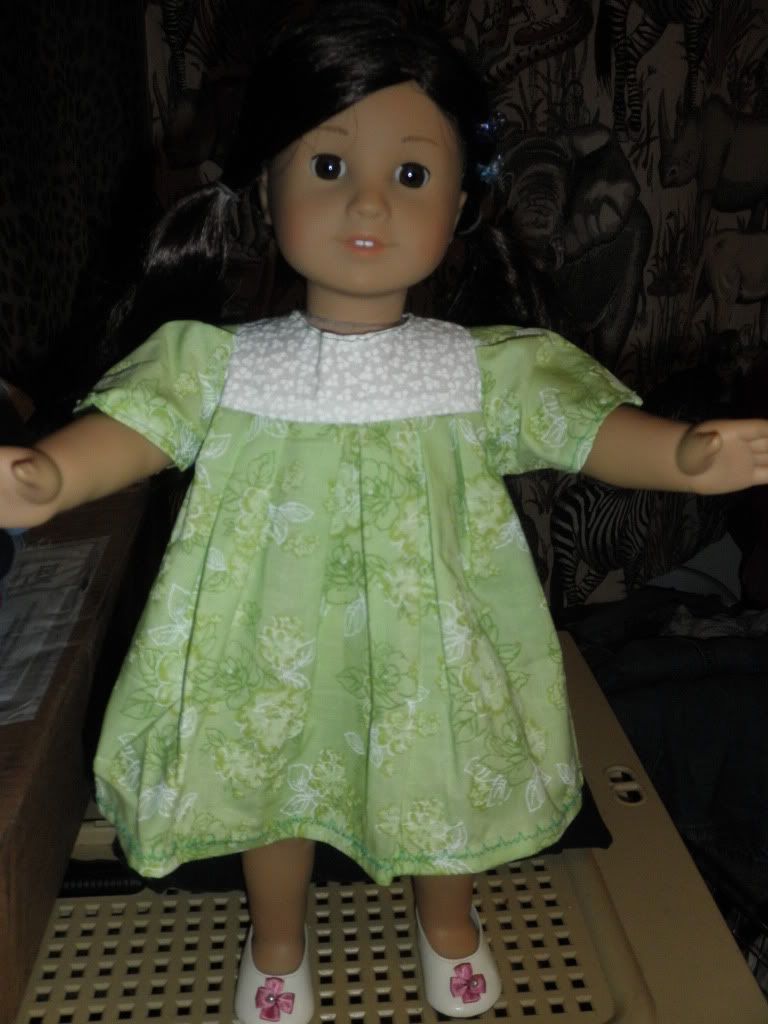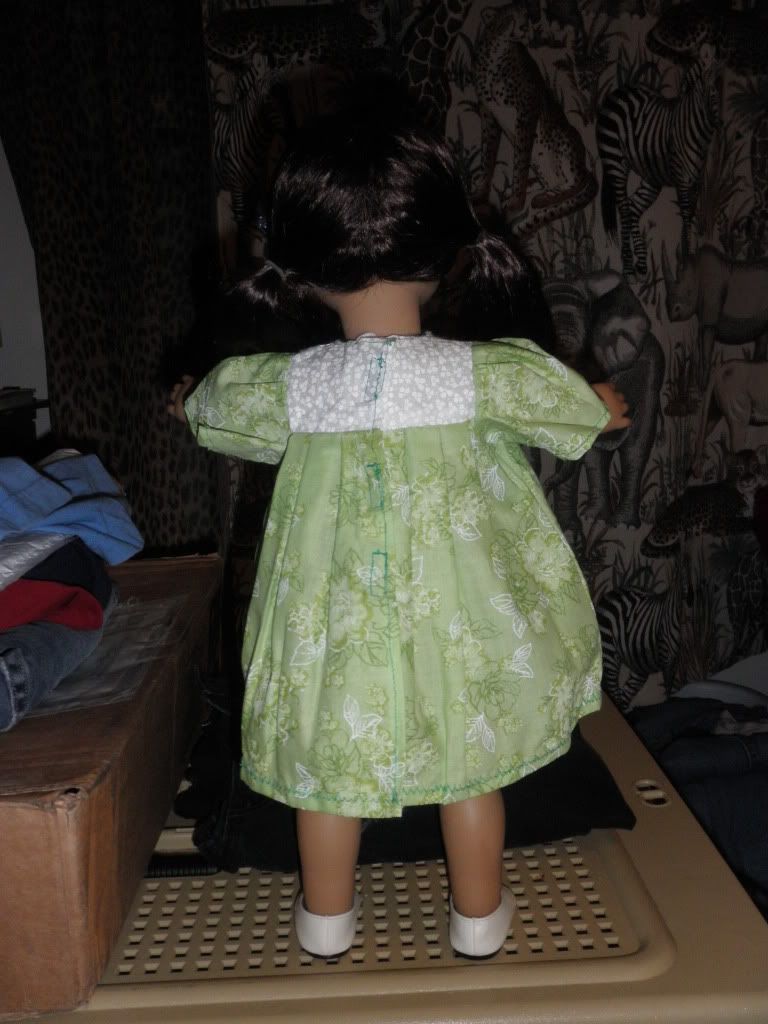 Followed by
Jess in Pink
:
2 dresses in 1!
I had to think about this a little. Somehow I didn't anticipate how cute Jess is in a Hawaiian print...
Since this dress has both a dress and pinafore, both could quite easily be worn separately.
Just the pinafore: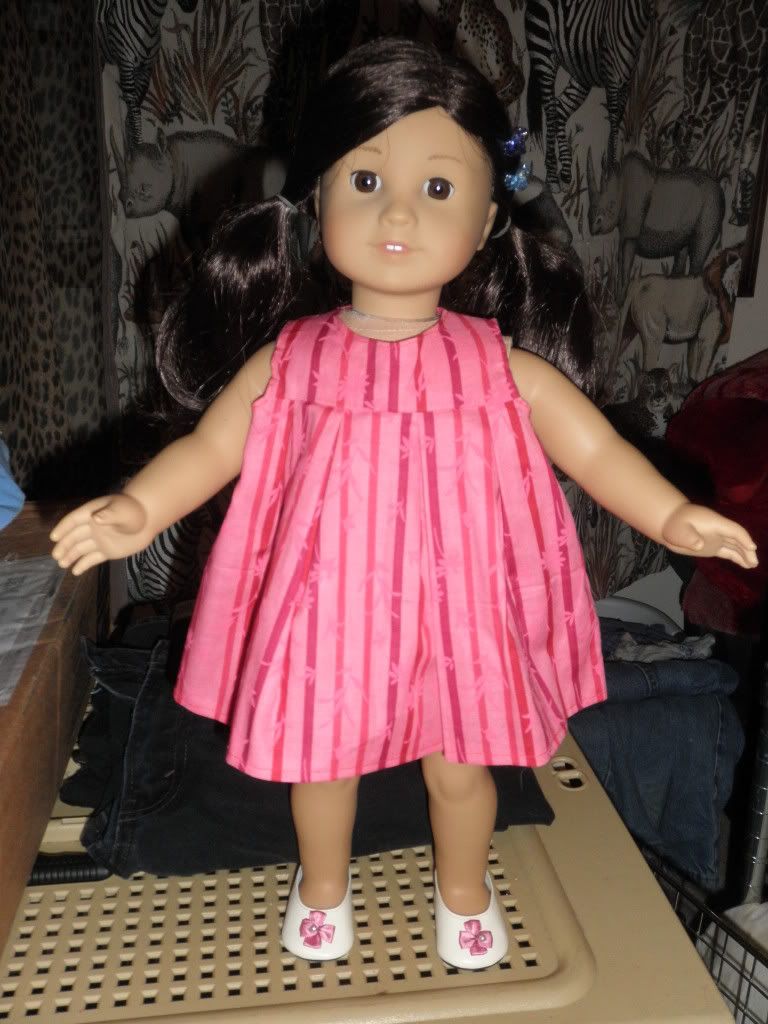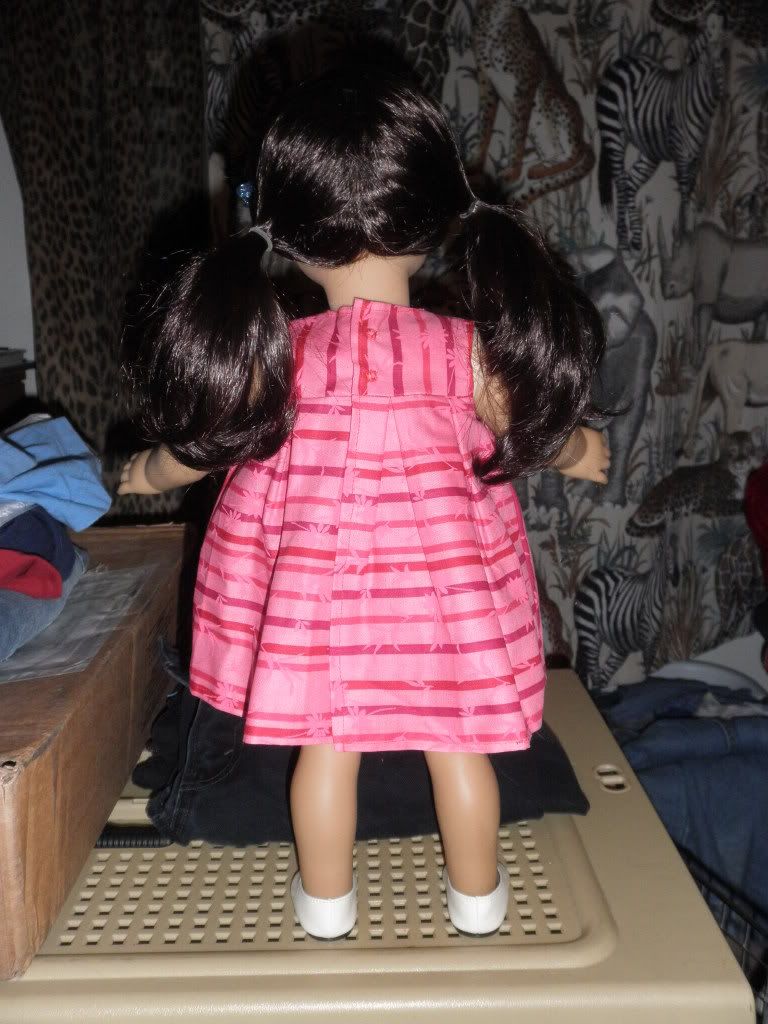 I was using a fat quarter so when I did the back.. I admit I didn't pay attention and I thought I had the stripes the right way.. but I still stand by it's cuteness factor! Plus it's the back...
Then the dress: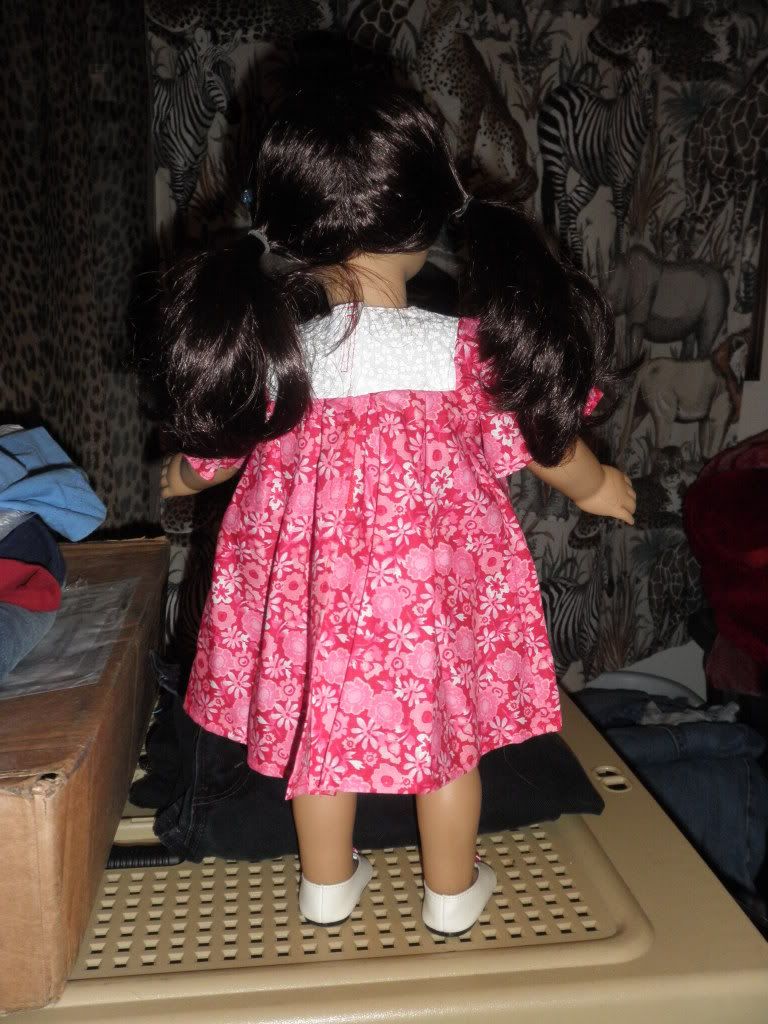 I used the same white flowery fabric as the green dress. It's a great accentuation to most other fabrics!
Truthfully I just can't get over how damn cute Jess is in this pink dress! This print really suits her.
P.S. You really have to get the right angle on Jess when taking pictures or she looks evil - like a super villain - it's kinda funny if it weren't so scary!
Next up is Samantha modeling a
Lime Green
Princess dress!
I used the Disney Princess Simplicity pattern ... but honestly I could make this pattern with my eyes closed now.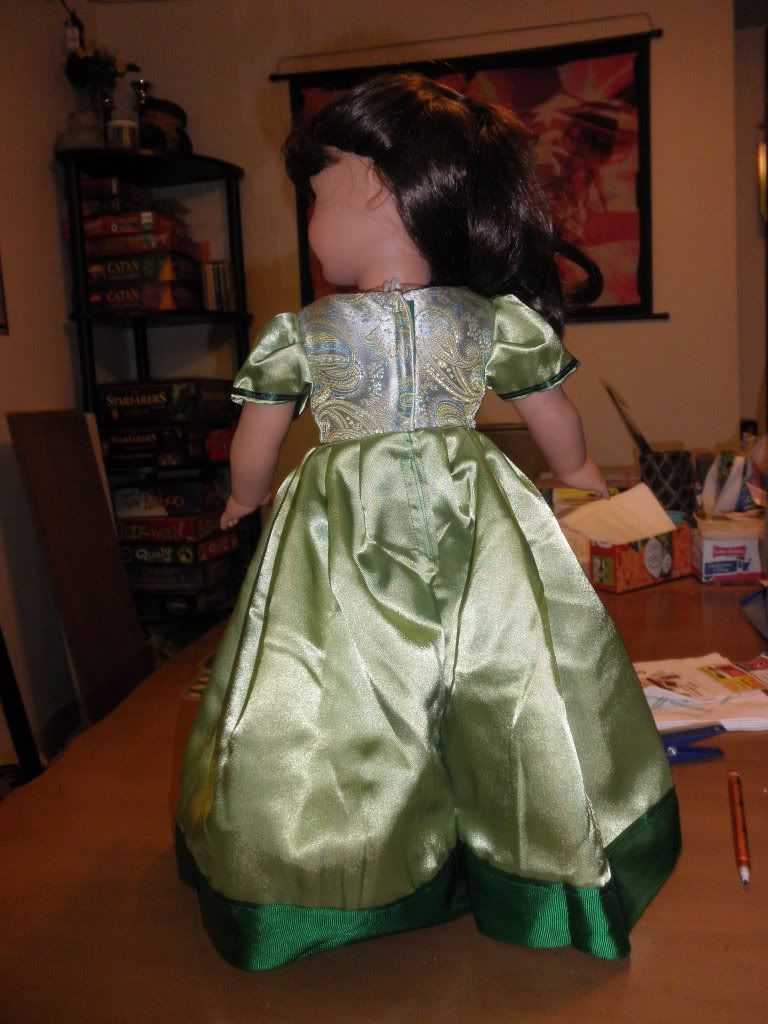 I used some mint colored brocade for the bodice of the dress and accented the dress with dark green ribbons. The back is closed with Velcro - of course. I love the look! I also love the color :D
The fourth dress was kind of a mash-up of patterns. I have this pattern for Colonial/Victorian clothes(6 patterns in the set) I liked this dress, but wasn't too thrilled with the top of the dress so I improvised!
Samantha is modeling this beautiful
purple dress
: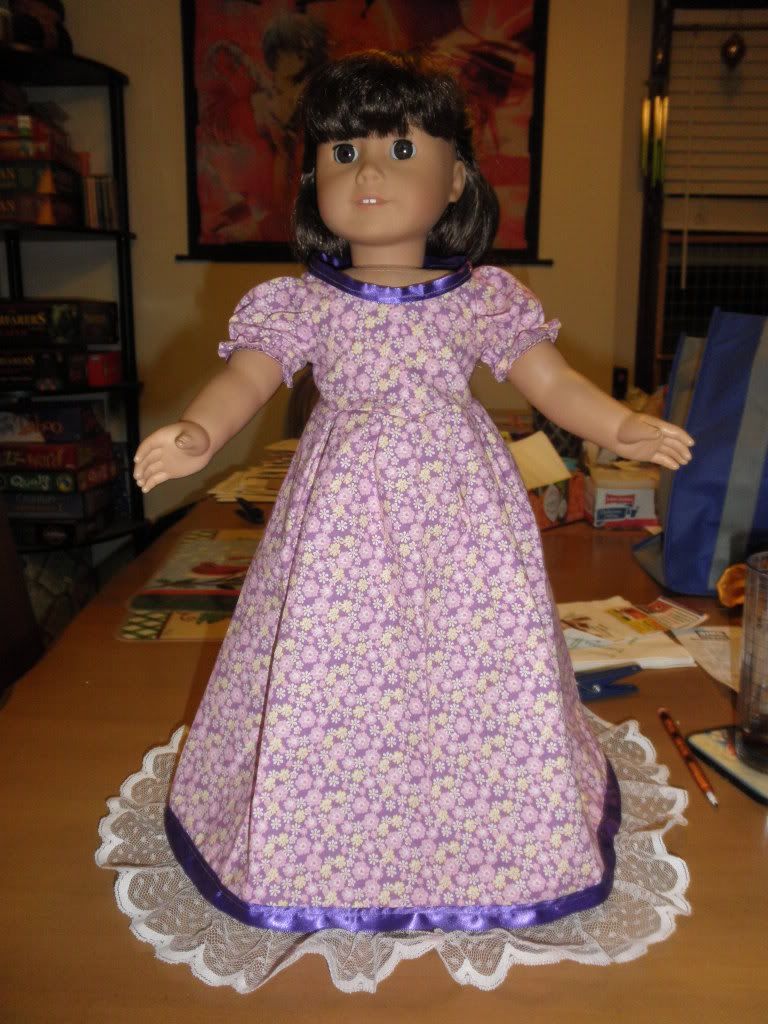 It's really long and I love it! I added some lace and ribbon to the bottom - totally works! I also added ribbon to the collar since I didn't line the top. This is also a 2 piece dress. I made an apron for it also.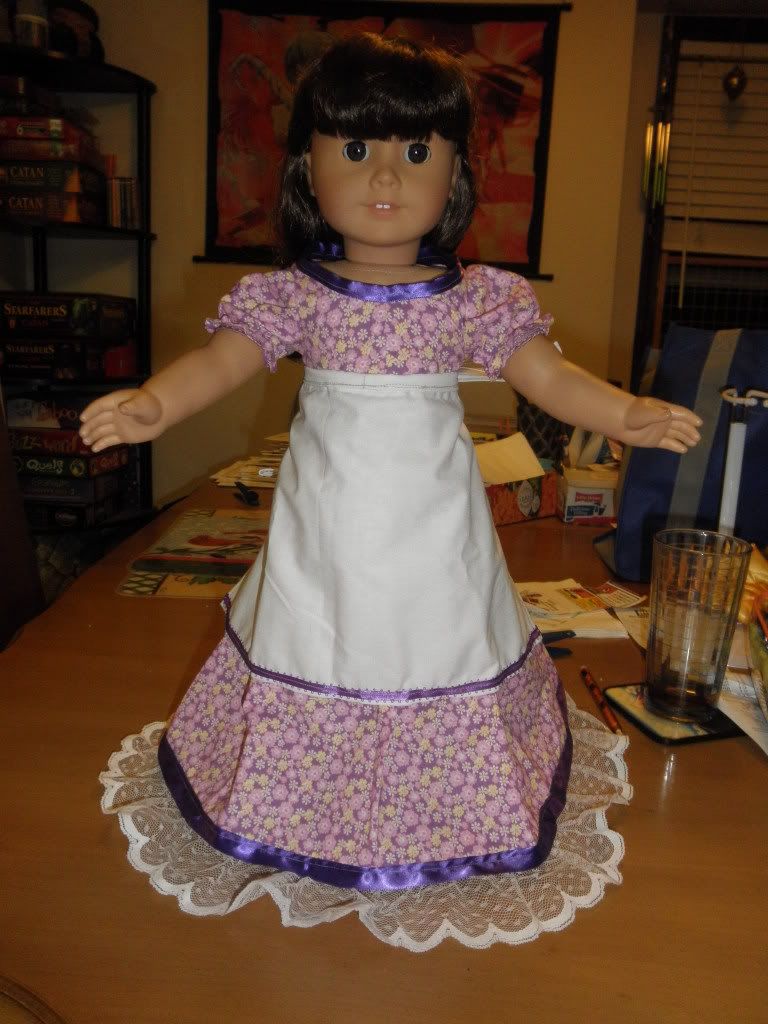 Sam is amazingly cute in this dress! She wanted to keep it but I had to tell her no.
And my last outfit - and so far most complicated of the 6 outfits - A set of
Ghost Pajamas!
I have a lot of this fabric left and I think I might just have to make a second set of ghost pjs! This is sooo cute!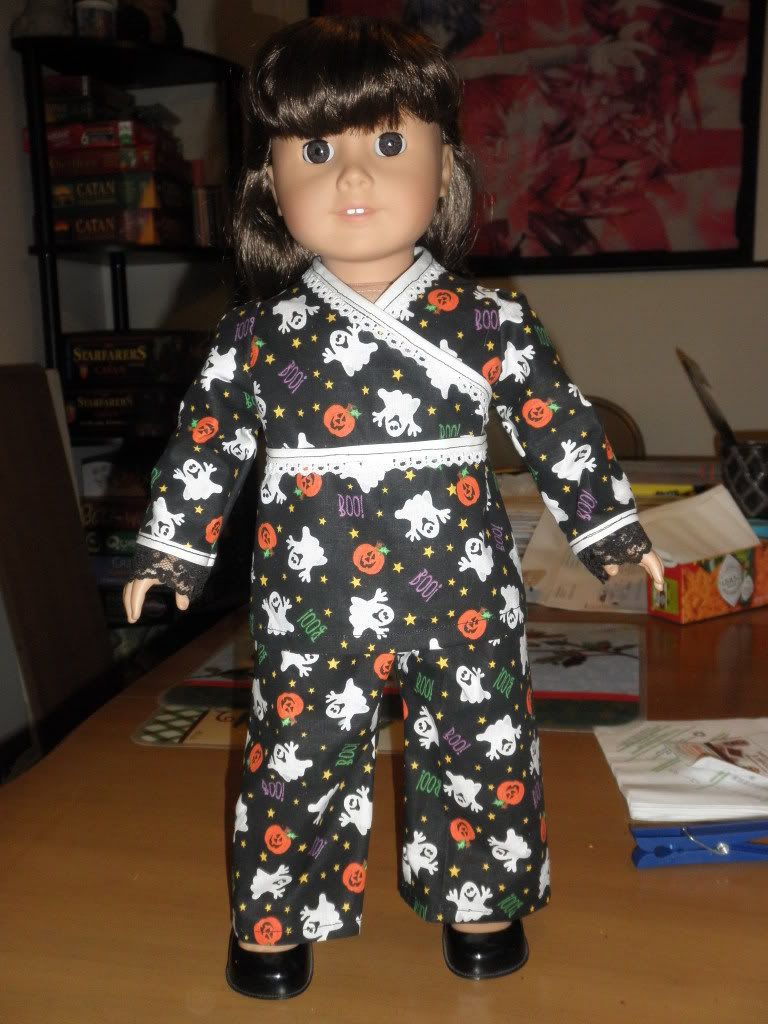 I think these are just the most darling pjs ever!! The pants were super easy... like making any pair of pants!
The top... now that was a bit complicated!
Samantha is usually my pin cushion doll when I make clothes. Hey, she insists on being the first one in everything!